Sam Sims* (2015)
Only two Fayette County basketball players have ever cracked the 2,000 point barrier.

One is Connellsville's James Hairston, who tallied 2,245 points for the Falcons during his high school career, which ended in 2004.

The other player goes back to a different era in basketball and that makes the 2,138 points Sam Sims put up at German Township from 1956 to 1959 even more remarkable.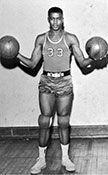 Sims, Wampum's Don Hennon and Wilmingtons's Warren Sallade are the only players on the WPIAL's 2,000 point list from the decade of the 1950's.

That can be tied directly to the advent of the 3-point shot. It's no coincidence the number of 2,000-point scorers has increased dramatically since 1987-88, when the 3-pointer found its inception in the WPIAL.

"I'm sure that plays a role, no question," Hennon said. "I don't care if they had a 5-point shot. You've still got to make them. I don't think it taints it at all, in no way. You still have to play basketball. The fellows who are making 3-pointers are good shots."

Sims' accomplishments have not diminished over the years – he is truly a forgotten gem from the past.

One of Sims' fiercest rivals in high school was Georges Township star Winifred Beckwith. He and Sims had some tremendous scoring battles. Beckwith believes Sims hasn't gotten the accolades he deserves.

"Sam Sims was a tremendous player; he was an outstanding player," Beckwith said.

"He was an outstanding athlete who could do it all," opined former South Union star Rich Novak. "Sims was a force of nature on the basketball court, a tremendous football player and track star.
"I don't want him to be forgotten and that is why I nominated him for the Fayette County Sports Hall of Fame, he was that good."
Sims excelled at basketball, football and track for the Uhlans, but basketball is where he really made his mark.

Sims started his point spree as a freshman, when he scored 357 points; he followed that as a sophomore with his highest total, 609 points. His junior year he tallied 594 points and he poured in 548 points as a senior.

What really catches your eye about Sims is his consistency. From the time he opened the 1956-57 season with eight points against Scottdale, until he played his final game, Sims was never again out of double figures. He had a string of 70 consecutive games in double figures. Factor in the 16 games as a freshman when he had some games less than 10 points, and Sims had a career total of 86 games in which he scored in double figures.

"I can remember Sam when I was a freshman at Point Marion," former high school and WVU star Buddy Quertinmont said. "We played at German in that little band box that they had.

"I'll never forget Harry Brownfield telling me you guard that gentleman right there and I said okay and the first time I guarded him Sims just jumped over top of me for a lay-up and the second time I tried to take a charge and he knocked me into the mats so hard that they had to take me out of the game and that was my freshman year with him.

"When I went back my sophomore year I played him heads up for the whole game and I think he had 40 points or so. He was at that time a man playing against boys and he was that good. He was one of the best high school basketball players to come out of Fayette County."
Sims was the Fayette County scoring champ in 1959 when he averaged 28.9 ppg. He garnered Honorable Mention All State honors as a senior. He holds the Fayette County scoring mark with 61 points in a game against Redstone in 1959.

Here is an excerpt from the Brownsville Telegraph about the 61 point outburst against Redstone: 'Redstone Township High School basketball fans got an eyeful this week when the Black Hawks traveled to German Township High School, where the Section 11 champion Uhlans swamped them, 107-71. Leading the way for the champs was dazzling Sam Sims, who scored 61 points himself and broke the Fayette county single game scoring mark of 54 points set last year by Rich Novak of South Union.

'Freddie Mazurek scored 32 points for the Black Hawks, but his effort was dwarfed by that of Sims, who fell just 11 points short of outscoring the entire Redstone team. It was the 13th straight victory for Coach Adam Donnelly's Uhlans.'German won one section title in Sims' career. In 1959 the Uhlans went 18-2 overall and lost to Midland in the WPIAL tournament, 56-41. The Leopards hounded Sims all night but he still managed to score 18 points in the game.
Sims was an outstanding halfback for German coach Lou Rozzi's football squad. He scored 70 points during the 1957 campaign as German posted a 7-2 mark.

He was named Honorable Mention on the All Fayette County team. In 1959 the Uhlans slipped to a 5-4 record and Rozzi retired.
"We had some very good talent – guys like Murnis Banner who went on to play at Maryland. Bill Rutland and Sam Sims played with me," Former German athlete Joe Stromick offered. "Sims was a gifted athlete with a lot of natural ability. Rutland was a super fullback."
Sims was a dynamic track performer for the Uhlans. His events were the 100, the 220 and he ran on the 440 relay team.

"Sims was lightning fast," Novak recalled. "He ran a legit 9.9 or 9.8 100. He was just a great all-around athlete and was a threat to go all the way any time he touched the football when he was on the gridiron."

Despite his immense talent Sims was well grounded and a great teammate.

"He was a very nice young man," former teammate Bill Rutland said. "He always had a smile on his face and after school we remained in contact. We were lifelong friends."

One of Sims' best friends from childhood was Bernie Homistek of McClellandtown.

"One thing people forget about Sam is that he was an outstanding baseball player. I've never heard anybody have anything bad to say about Sam Sims or him say anything bad about anyone, Homistek said.

"He never forgot where he came from. If I could pattern my life after anyone I would pattern it after him, that's how great this guy was. Everybody liked him."

After graduating from German Sims had a two-year stint at Omaha University in Omaha, NE. By all accounts he did well; in his freshman season he helped the Indians snap a 17-game losing streak.
It was his first start and he scored 21 points in a 69-65 win over Fort Hays State. He had some other big games for the Indians with 23, 24, 32 and 27 point efforts off the bench. Omaha was 3-19 in 1960-61 and 5-14 in 1961-62.

Sims was disturbed by racial attitudes in Omaha and at school and had money problems so far from home; he left school after two seasons.

Returning to Fayette County Sims married his high school sweetheart, Maxine Burden, in 1962. After a six-month stay in New York City, they settled in Cleveland, OH. Sims worked for U. S. Steel for 19 ½ years and Pepsi Bottling for 15 years.

They had one son, Sam Jr., who was the victim of a drive by shooting in 2003. Sam Sims passed away on December 6, 2005.

"One guy no one ever mentions and should when they talk about the great players is Sam Sims from German Township High school. He was as good as anybody," said former Uniontown great Mel Freeman.